| | | |
| --- | --- | --- |
| | Clutter Control Supplies | |
You can begin this phase anytime you are ready, but as I've stated before, I think you should start on cleaning first.
4 medium-size, sturdy boxes
tall, kitchen garbage bags
large, heavy-duty garbage bags
additional boxes for storage*
additional dividers for your file box, labeled as needed
sharpie markers
white index cards
pen or pencil
*I get apple boxes at the grocery store. They have lids that slip on and off, they are all the same size, and they are sturdy so you can stack 'em. I also have plastic storage boxes that go under our beds. I use these for our seasonal clothes. I have 8.5" X 11" boxes to file all our papers for a year after taxes are figured. I am sure you will think of more, but it helps if boxes for any given area are the same size. Odd sizes topple and spill or fall on you.

The Organization Station Newsletter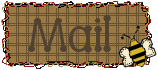 Special Thanks to Country Lane Graphics for these Busy Bees!