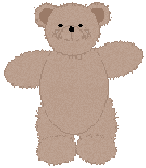 Dayplanner Supply List
| | | |
| --- | --- | --- |
| | What You Need | |
(Size is 5.5" X 8.5" for all items.)

binder - I used to use a full size 8.5" X 11" pages because I had lots of papers that size. I now have a brief-case bag that holds the larger papers in files and my planner. Got mine at Sam's with some other Franklin/Covey stuff in it.


zippered pouch


pen


pencil


highlighter


lined tablet of paper


zippered pouch


pen


monthly calendar - get the kind with tabs. I use the set from Franklin/Covey that has the month on ONE page only. I dislike having papers in between the two halves of the month with the two-page style.


weekly or daily calendar pages - I make my own daily pages. They will be shown in the lessons.


page marker - this is a plastic device that snaps over the rings in your binder. I move this each time I turn a page to a new day. Mine is made to hold a removable/customizable week-at-a-glance page. Find one like it at Franklin/Covey. Of course, if you get a pouch-type page marker you will need the little papers that go in them.


dividers - you will need about 10 - 12 heavy-card-stock-weight dividers. You can buy them or make them yourself with stick-on tabs.


stick-on tabs - These are called "index tabs" and come in various sizes and colors. I use the ones that are about an inch wide for my planner. If you decide on the larger size planner, you may want to get larger size tabs.


floppy disk holders - These are made for planners. I use the ones put out by Day Runner. They hold 2 disks per page. You will need 4 or 5 of these. (I think they come 2 per pack.)


name and address dividers - Day Runner makes the ones I like best.
| | | |
| --- | --- | --- |
| | What You Might Want to Add | |

post-it note holder - I have one and I use it a lot! It will not be essential to some, but it is to me.


business card holder - I like Day Runner for this, too.


checkbook holder - I don't have one, but I think they would be nice. You could ditch your purse.


calculator - probably should be in the above section, but I don't have one and survive ok.


brief case - I do have one of these and this will be discussed later. It was a freebie with an order from Reliable. The style is like a big purse with pockets and zippers - not like what you think of when you think "brief case".
| | | |
| --- | --- | --- |
| | Sources | |
Day Runner

You want to know what goes where? Move on for a brief discussion of the planner sections.

Got Questions?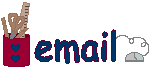 The Organization Express Newsletter
I have been so fortunate to find such a great group of graphics. Thank you, Amreta, for the use of this adorable set. Please visit her well-done website for some beautiful artwork. Just click on the graphic link below.