Outline of Dayplanner Sections
This is the current order and list of all the sections and items in my dayplanner. You'll notice I have sections to suit my particular interests and needs.
Front Jacket with pockets (the cover of the planner)
Zipper pocket
Post-it note holder from Day Runner with post-it note pads
Monthly Calendar Pages
Daily Calendar Pages between monthly pages (above)
Planning Calendar (future years)
Values
Goals
Finances
Information
Ready Reference
Numbered Sections - customized for my needs

Bible Study
Projects
Kitchen
Gardening
Quilting
Task Lists

Card Section
Address and Phone Section
Business Card Holder
Back of Binder
Put Your Dayplanner Together

Most binders come with at least a couple of pockets and flaps on the inside front cover. Use these pockets for "return to if lost" information, stamps, & a couple of blank note-cards with envelopes. I also keep the instructions for my cellular phone there and one of my "fat" pictures (sort of a motivator). If you are using your planner as a billfold or purse, also include bank cards, credit cards, phone cards, driver's license and anything else you can think of that might come in handy, which brings us to the question, "What if I lose my planner?". The answer is: "DON'T LOSE YOUR PLANNER!". Keep it with you at all times just like you do your purse. In fact, never go anywhere without it.

Items like your checkbook (unless you buy a special holder for one), a sewing kit, change, the pencil and highlighter go in the zipper pocket. If you are ditching your purse you may want to put some lipstick in the pocket. My pen is there even though there is a special loop for it. I find the loop a hassle.

The next section is the calendar section and will be covered in a future lesson in detail.

Now we come to the tabbed dividers. Mine came as a set with my original Franklin/Covey planner, but you can easily make your own with the cardstock and stick-on index tabs.
The planning calendar is for you to use to set up appointments and dates in the years that go beyond the current one in your calendar section. I have never used mine much - in fact, right now it's empty. I did have a family reunion scheduled in it once that was 3 years ahead.
I really like the values section. Although it is not in the front of the planner, it is the top section as far as importance goes and will be the focus of the next lesson.
Right after values comes the goals section. These work hand-in-glove with each other. Can't have goals without values; and values without goals will be useless.
The finance section gets covered in a section on it's own also. I recently bought some Day Timer finance pages and may be revamping this section.
Use the key information to record numbers and information you would like to have with you. For instance, I have all my credit card numbers in there plus the 800 numbers to the companies. I have serial numbers of expensive items from our home, birthdays, anniversaries, sizes, small dictionary, sizes of vacuum bags & belts, filter sizes...you get the idea. If you think you have a remote possibility of ever needing it, write it down.
The numbered sections are personally fitted to me. I will share what is in a couple of them on separate pages. I think they will be helpful to you. Number 6 is my task lists and right behind it are the cards which I listed separately above. This is where you will put your floppy disk holders from the supply list.
Next comes my address/phone-number book. I also record information in there on children's birthdays. I do not need these in my key info section. I like knowing when my friend's children's birthdays are. I also home-schooled and used the info on the kids' ages frequently.
The last item before the back cover is the business card holder and I don't think I need to explain it to you. Another good use of the business card holder is to hold receipts from stores. Use a black marker to write the name of the store on the outside of each flap. It sure is nice to have a receipt with you when you need to return something.
The back cover of my planner has a pocket that I keep a lined pad of paper in. I also have a couple of papers stuck in there.

Before you can get the most out of your planner you need to understand a few things about time and events. Read on.


Got Questions?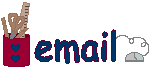 The Organization Express Newsletter

I have been so fortunate to find such a great group of graphics. Thank you, Amreta, for the use of this adorable set. Please visit her well-done website for some beautiful artwork. Just click on the graphic link below.