| | | |
| --- | --- | --- |
| | Goals Must Be Timely | |
Allow a reasonable amount of time for you to reach your goal. Be realistic in your estimate of how long it will take. It doesn't do much good to be overenthusiastic and hurried in your desire to succeed. Give yourself some breathing room.
Let's test one of my goals to see if it is a SMART goal. "By 6 months from today I want to have a cookbook published."
Is it SPECIFIC? Yes, it states the goal succintly.

Is it MEASURABLE? Yes, 6 months.

Is it ACTION ORIENTED? Yes, it tells me what to do.

Is it REALISTIC? Yes, I hope so.

Is it TIMELY? Yes, I think so.


You've been through the goal-building process. Now learn how to build your own set of goals based on your personal values.


Got Questions?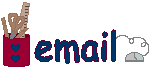 The Organization Express Newsletter
I have been so fortunate to find such a great group of graphics. Thank you, Amreta, for the use of this adorable set. Please visit her well-done website for some beautiful artwork. Just click on the graphic link below.