How I Use My Page Marker
I have a Pouch Divider I bought from Franklin/Covey. It comes empty, but you can buy a variety of things to put in it. I bought a pad of "week at a glance" papers which are especially made for the pouch. The front has "Monday, Tuesday, and Wednesday" each with several lines underneath. The back side has the rest of the days.
I filled out a page for each of the 6 stations I have. (Stations are discussed here.) I put a note about what station it is at the top, then fill in a general idea of what I want to do for each day of that week in the station. I also use the lines for each day of the week for reminders of regularly scheduled meetings regardless of which week they fall in. For instance, each filler page says "Quilting 1:00" under Tuesday even though it falls only once a month. Stations do not coincide with any particular week.
I keep reusing and rotating the same pouch fillers over and over. I keep the other 5 fillers in a pocket in the front of my binder. When they start looking ratty, I redo them.

You can go back to Lesson 7 or go on to Lesson 8 from here.
Lesson 8 has more details on using your planner in everyday life.


Got Questions?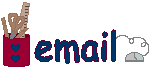 I have been so fortunate to find such a great group of graphics. Thank you, Amreta, for the use of this adorable set. Please visit her well-done website for some beautiful artwork. Just click on the graphic link below.