Using a Tickler File
| | | |
| --- | --- | --- |
| | Set It Up | |

You will need just a few supplies for one of the most useful tools you will have. First, you need a file cabinet. This can be a plastic one you can carry around, or a larger metal or wood one. Next you will need about 50 file folders. I use hanging ones with plastic tabs. You can use manilla ones if you like.
| | | |
| --- | --- | --- |
| | Label Them | |


Take 31 of the files and number them from 1 to 31. These correspond to each day of the month. Label 12 more with the months of the year, January through December. You can label some with upcoming years if you like.
| | | |
| --- | --- | --- |
| | Put Them In Order | |

Put the 1-31 folders in the front with today's date first. Let's say it's the 10th of the month. Number 10 will go in front, with 11-31 next; then 1-9 after it. Do the same with the months. If it's May then May - December go first with January - April following. If you have made files for upcoming years put them next.
| | | |
| --- | --- | --- |
| | Using the Tickler File | |

Before I tell you how to use the file, you have to commit to looking at today's file everyday, first thing in the morning. Now that that's settled here are some details. Your dayplanner holds notes that you write to yourself, but cannot hold very many pieces of paper due to its size. What do you do with those papers you want to keep, but have no place to put?

Since we just left the finances section, let's use those as a starting point. Once you designate a payment date for a particular bill, put it in your file under the appropriate date. My bill paying days are always on Thursday, so I file all my bills 7 days apart. All I have to do is pull out today's file and there they all are.

You can put notes on field trips for your children, ticket information, travel plans, shopping lists, notes to yourself, birthday cards, wedding invitations, doctors appointments, medical information, and on and on in your tickler file. Papers always surface when you need them. As an added bonus, you can jot a note in your project files in your planner where to locate a particular paper if you need it.

This file is not meant to be used to file inactive papers or records you need to keep, but active papers you are dealing with. You may not need to have a medical record for instance, so you would file it in your regular medical reference file, but you may need to take an insurance quote or a record from another doctor with you to an appointment. This paper is active and would go in the tickler file where you can forget it until you need it.
| | | |
| --- | --- | --- |
| | Continuing On | |

File the folder you just used behind the last one in the section after the end of each day or month. On the last day of each month open the file for the next month and shuffle any accumulated papers through the 1 - 31 days. Make notes in your planner if you need to.
| | | |
| --- | --- | --- |
| | Finishing Up | |
I think you will find the Tickler File more valuable than you ever realized. Do yourself a big favor and use one for a month or two. You will wonder how you ever got along without it.

The next page isn't done yet. Go back to the index for the day planner section and sign up for notification when the page is updated.

Got Questions?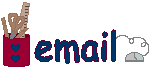 The Organization Express Newsletter
I have been so fortunate to find such a great group of graphics. Thank you, Amreta, for the use of this adorable set. Please visit her well-done website for some beautiful artwork. Just click on the graphic link below.