| | | |
| --- | --- | --- |
| | Complete Set of Task Lists | |
This first task list is just a compilation of all the things I do on a daily basis. I made it for my own information. The tasks are gathered from all my other lists, so all the tasks are repeats of something you will find somewhere else.
You'll notice it has a "Monday" tab on the right side. This is because it acts as the divider for my Monday task list. When I pull the tab forward I get to my Monday pages, but the dailies are not done on only Monday.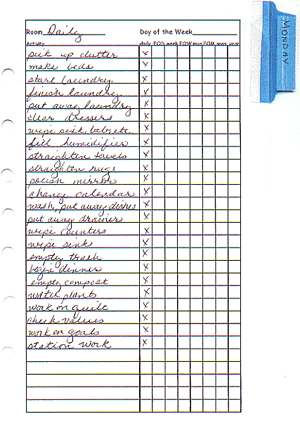 Monday's weekly focus is the kitchen area. It consists of the kitchen, on the first page, and the pantry, breakfast nook, and small alcove area I call a small office. It is my largest and most work intensive zone and is not always done as well as I would like. I need to get rid of a bit of clutter I am having a hard time letting go of. Notice again that my Pantry sheet has a tab for Tuesday on it. I do not do the Pantry on Tuesday - the page is also acting as Tuesday's divider.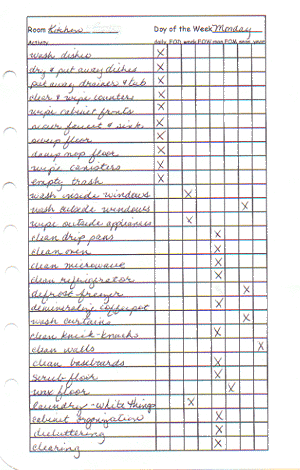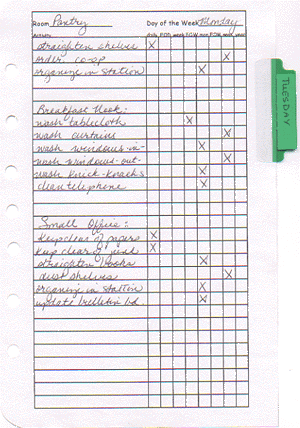 The next area is my living and dining rooms. They are sort of one big area with a set of doors between so I lump them together.
The Wednesday tab on the above page opens up to my next pages, the bedrooms and bathrooms. I have more bedrooms, but they are included in the "upstairs" page. These particular bedrooms are the rooms we live in on a daily basis, not the guest rooms which are usually unused.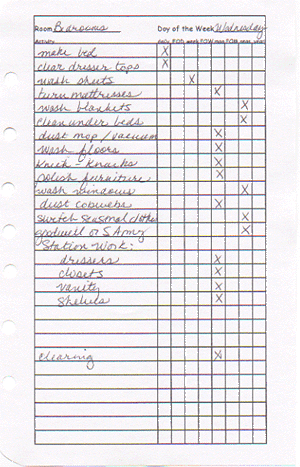 This will make for a long-loading page so I will continue on another.
Click here for part two.

If you do not want to see the rest of my lists, you can go back to Lesson 2 or continue on to Lesson 3.

The Organization Express Newsletter
I would love to send a hearty THANK YOU to Helena Normark at Graphic Garden for the backgrounds, graphics and html for setting up the page. Give her site a look when hunting for graphics. They are fabulous.

The Depot at the Home Station
Back to the control center.