Note: If you'd like to know when more links are added to this page, (I have lots of pages planned), just reload or refresh this page. When the Tripod banner opens it has a link for "Tell me when this page is updated". Click on that and you will receive notification. I never see your address from the Tripod form. You are welcome to email me personally. I love getting mail and would like some honest feedback about these pages. Please pass the link for these pages on to your friends if they have helped you.
The Organization Station - Dayplanner Table of Contents
Dayplanner Links

Introduction to Dayplanner
An overview of the dayplanner system.


Supplies For the Dayplanner
Read the next lesson or two before making a final decision.


Discussion of Sections
A brief discussion of the various sections of the planner.


Understanding Time
Controlling life = controlling time.


Discovering Values
What matters most?


Setting Goals
What do you want to do in life?


Building a Goal From a Value
How values and goals work together.


The Calendar Pages
How to Use Your Calendar


Blank Page
A blank page for you to use.


Page Marker
A better use for an ordinary item.


Working Through a Day
See how a typical day looks when you use your planner.


Household Chores Section
How to work your organization cards into your planner instead of using a box.


Financial Section
Track your bills with this simple page.

Other Tables of Contents

Cardfile Table of Contents
Begin here and find out just what you need to be ready in the war against household disorganization and clutter.


Clutter Control Index
How to instructions for ridding your self of clutter and chaos.


Recipe Index
Links for monthly cooking, made from scratch items, breads, and more. The pages have not been fancied-up, but have good info on them.


Fascinating Womanhood Index
Lessons, assignments, and success stories based on the book, "Fascinating Womanhood", by Helen Andelin.
Got Questions?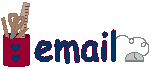 The Organization Express Newsletter
I have been so fortunate to find such a great group of graphics. Thank you, Amreta, for the use of this adorable set. Please visit her well-done website for some beautiful artwork. Just click on the graphic link below.